There's no Buisness Like Dragon Buisness is the 11th episode in the American children's cartoon, Darkstalkers. This episode features Harry and Hairball as well as a dragon they both found while riding a sled. Medieval elements are also brought up in this episode as the unnamed dragon trusts Harry since he is related to Merlin. This episode also includes the "Wide World of Raptor" rap, sung by Lord Raptor.
Harry and Hairball stumble upon a frozen dragon while snow sledding. After being kicked off a movie set, Lord Raptor is summoned by Demitri to bring him the dragon. After convincing the dragon that Felicia is evil, Raptor takes the dragon back to Pyron to attack him.
Appearances
Edit
Irving I. Irving (Ian Corlett)
Pyron (Richard Newman)
Computer (Ian Corlett)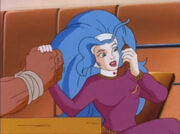 References
Edit
Raptor mentions he was in a movie titled "The Good, the Bad and the Raptor." This is a play on the title of an Italian film "The Good, The Bad and the Ugly."
Several Terminator and Arnold Schwarzenegger references are made. As Raptor is kicked out of the movie lot he says "I'll be back," a famous line by Schwarzenegger from the Terminator series. The man says to Raptor in Austrian like accent "You want to live, then don't steal my lines," even though Raptor is technically dead.
Felicia appears in her "Mike" gear, similar to episode "And the Walls Come Tumblin Down". This is a parody of the famous workout gear, Nike.
Song references
Edit
Lord Raptor makes references to many songs main lyrics. Some of which include:
"I'll Do Anything for Love (But I won't Do That)" by Meat Loaf.
"Hard Day's Night" by the Beatles.
"All Shook Up" by Elvis Presley.
"Stand by Your Man" by Tammy Wynette
"Great Balls of Fire" by Jerry Lee Lewis
"Sweet Dreams (Are made of These)" by the Eurythmics
"Summer in the City" by The Lovin' Spoonful
"Stop! In the Name of Love" by The Supremes
"Twisty and Shout" by The Top Notes and later covered by various artists.
Even though the dragon has broken free of the ice by it's head, later on the dragon breaks free from the ice while being completely covered.
When Raptor is above the pit, half of his pant legs are colored in the same tone as his skin.
The dome of ice created by the Sasquatches is inconsistently drawn as transparent or opaque. In addition, the hole in the dome created by the dragon's fireball appears in the sky before the fireball actually passes through it.