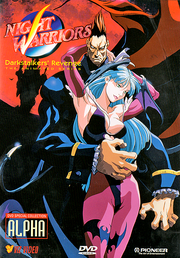 Night Warriors: Darkstalkers' Revenge was released in 1997 with 4 volumes. Each volume ran around 45 minutes and featured some of the Darkstalkers' cast. The series was initially released by Viz Video on VHS, DVD, and UMD for the Playstation Portable. It was re-licensed by Discotek Media for DVD re-release[1]. The official soundtrack for the anime was also released in the US and Japan.
The series was based on Capcom's video game Night Warriors: Darkstalkers' Revenge.
Plot summary
In a world different from our own, the old folk lore of vampires, werewolves and other terrifying creatures are a reality. In this world, humans are the natural enemies of these creatures, known as the Darkstalkers.
Production
The staff for Night Warriors, which was composed of many members responsible for Gundam Wing (1995), were chosen by suggestions from Shukō Murase, the character designer for the anime as well as Street Fighter II: The Animated Movie[2]. Animation for the series was done by Madhouse with Masahi Ikeda directing. Character design was watched over by Shukō Murase and production by Takafumi Hoshikawa while music for the four volumes was composed by Ko Otani[2] with the ending theme by Eikichi Yazawa, titled "The Trouble Man".
Volumes
Characters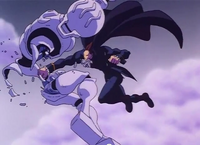 Minor characters and cameos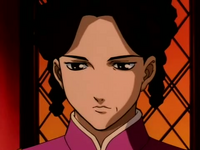 Minor Characters
Hsien-Ko and Mei-Ling's mother
Intro and ending cameos
Trivia
The ending theme for the series, "The Trouble Man" by Eikichi Yazawa was also used in the Japanese home console port of Darkstalkers: The Night Warriors, as its opening theme.
Australian voice actor Scott McNeil also voiced Lord Raptor in the American series of Darkstalkers cartoons. He is also the only voice actor from the cartoon to reprise their role for the OVA while Kathleen Barr who voice Harry Grimorie's mother in the cartoon voiced Morrigan in the OVA.
Oddly, Huitzil appeared with its alternate color instead of its official color.
Demitri's aura that protects him is not visible in the OVA.
Gallery
External links
References