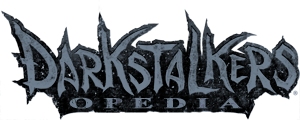 Welcome to the Darkstalkopedia
The wiki about Darkstalkers that anyone can edit!
264 articles since December 2007
Please read: Simplified Manual of Style • Policy
Darkstalkers
Merchandise
News and Events
June 24, 2022: Capcom Fighting Collection has been released!
April 10th, 2014: Darkstalkers and the Twelve Principles of Animation by Richmond/Art-Eater
January 9th, 2014: Northeast Championship XIV side tournament featuring Vampire Savior is available on Youtube to view.
January 9th, 2014: Shoryken is holding a poll for "Best fighting games of 2013". Darkstalkers Resurrection appears in two sections.
November 8th: Darkstalkers GGPO tournament every Saturday at 8pm PST/11 EST. Sign ups are 30 minutes prior.
June 9, 2022: Shreeder4092 has become the new admin for the Darkstalkopedia.
April 10th, 2014: All Vampire Savior cast has received addition quotes, Udon translations and original Japanese text.
November 5th: We're currently trying out the VisualEditor. Bugs should be reported to Wikia. Comments, likes or dislikes of it can be left on my message wall.
November 5th: Wikia updated to fluid layout.
November 1st: Want to find new challengers? Help by adding to the Resurrection Gamer Tag Exchange thread.
October, 26th: Front page updated to allow ease of access. Questions, comments, praise or criticism, please leave them on my page, User:Openwithnotepad
Featured
Capcom Fighting Collection
:
Capcom Fighting Collection is an fighting game compilation developed and published by Capcom. The collection includes arcade versions of ten fighting games originally released by Capcom between 1994 and 2003, including all five Darkstalkers games.
...Read More
Random image

Q-Bee concept art
Community Links
Contribute
Not sure where to start?
Adding content