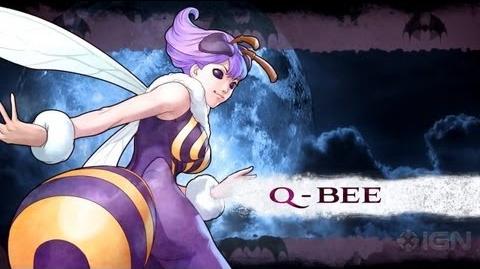 Q-Bee is a playable character in Darkstalkers 3, also known as Vampire Savior and later in Vampire Savior 2.
According to Darkstalkers lore, Q-Bee's attacks were translated as close as possible to human language with the guidance of rules presented in Varvle Mattlayer's book "Insects of Makai." Many of her attacks make use of additional symbols.
Darkstalkers 3 (Vampire Savior) Edit
Main article: Darkstalkers 3/Moves K-Z
Command normals
Input
Notes
Float
in air, hold
Homing Dash (air dash)
in air,
Cn
or +MP or HP
Up close
CA
In air, or +MP or HP
Up close
Special moves
Input
Notes
SU
ES
+P or K
S×p
Tap K
Usuable in air
C→R
ES
+P
Usuable in air
ΔA
ES
+K
Usuable in air
R.M
ES
+K
GC only
O.M.
ES
+P
Up close
EX moves
Input
Notes
QJ
+2P
Usuable in air
+B
+2K
Usuable in air
Dark Force
Input
Notes
i²
P+K of the same strength
External links
Edit
Community content is available under
CC-BY-SA
unless otherwise noted.