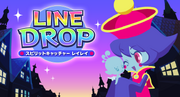 Line Drop: Spirit Catcher, Line Drop: Spirit Catcher Lei-Lei (LINE DROP スピリットキャッチャー レイレイ, Line Drop Supiritto Kyacchā Rei Rei) in Japan, is a puzzle game featuring Hsien-Ko. The player must connect three or more gems of the same color. Various missions, unlockables are present in the game as well as boss battles where you must beat the score of another Darkstalkers character. The game was developed by Line (stylized as LINE) Corporation and was released in 2013. Playing Spirit Catcher requires the user to have a Line account and app on their device. The game is available on iOS and the Android.
How to play
The objective of Line Drop is to line up three or more of similar colored gems within a minute. Clearing gems will increase your chain combo gauge. Filling your gauge will make a spirit appear and when the spirit is lined up with the same color it will clear all of that color from the board. If the player clears three spirits in a row, they will enter Bonus Fever which ups the points earned. Each round costs the player one heart while playing in mission mode will only cost one heart until the player loses and has to continue, diminishing another heart. Hearts will be replenished after an eight minute period but can also be bought with in game rubies or from friends. Rubies are obtained by completing various tasks or simply by entering the app. Rubies also allow the player to purchase items in game to benefit their match. Other features are Lucky Friends, which is chosen randomly. Clear your lucky gem and 1.5 times the points and 3 times the points if your gem happens to match your friends.
The game features two modes, Play and Mission mode.
Boss characters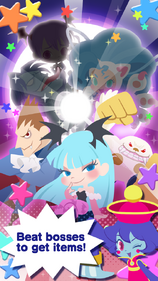 Line Drop's main character is the jiang-shi, Hsien-Ko with various other Darkstalkers characters appearing as bosses. In the game the character names are dropped and are all referred to by epithets similar to those from the Japanese series.
Soundtrack
Line Drop includes seven tracks. Track three is written, composed, arranged and sung by Azusa Kato and is the only track with sung vocals.
| | Original title | Translation |
| --- | --- | --- |
| 1 | メニューBGM | Menu BGM |
| 2 | ゲームBGM | Game BGM |
| 3 | +*°ホシゾラ☆メッセンジャー°*+.(アイテム使用時BGM) | Starry Messenger (Item Use BMG) |
| 4 | クリアリザルト | Clear Result |
| 5 | ハイスコア更新 | High Score Update |
| 6 | ランキング変動 | Ranking change |
| 7 | レベルアップ | Level Up |
Starry Messenger Lyrics
Japanese
Romaji
誰かが置いてった 素敵な贈りもの
拾い集めて 空に放つよ

キミへの想いが 導いてくれるから
いつもよりも 高くとべるはず

声とか 仕草とか 言葉じゃなくても
キミが望むなら ココロ伝わるよ

今までの絆が チカラになるから
どんな夜も 越えてゆけるはず

(越えてゆけるはず ah…)

Dareka ga oitetta Sutekina okurimono
Hiroi atsumete Sora ni hanatsu yo

Kimi e no omoi ga Michibite kureru kara
Itsumo yori mo Tataku toberu hazu

Koe toka Shigusa toka Kotoba ja nakutemo
Kimi ga nozomunara Kokoro tsutawaru yo

Ima made no kizuna ga Chikara ni narukara
Donna yoru mo Koete yukeru hazu

(Koete yukeru hazu ah...)
Gallery
External links