"Ghost Hunter" is the 6th episode in the Darkstalkers TV series. The episode marks Hsien-Ko's first appearance and also expands on her and Demitri's history in the TV series continuity. This is the first episode not to feature Felicia and Harry.
Summary
[
]
Demitri and Morrigan notice there are hardly any remaining Darkstalkers. Morrigan suspects someone is hunting the Darkstalkers to extinction. Harry finds a news article about a man who died mysteriously in Cape Town, Africa. After telling Felicia, they decide to ask Rikuo to investigate. Meanwhile, Lord Raptor is sent to investigate a possible Darkstalker that could be recruited for Pyron.
Appearances
[
]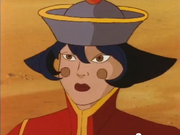 Main
[
]
Minor
[
]
Bigfoot (silent)
Newscaster (Saffron Henderson)
Computer (Ian Corlett)
Hendrick Farr (Ian Corlett)
Felicia (Lisa Ann Beley)
Harry Grimoire (Kyle Labine)
Mei-Ling (Venus Terzo)
Pyron (silent)
Quan Yin (Venus Terzo)
Notes
[
]
Unlike the video game series, Mei-Ling does not accompany Hsien-Ko.
Continuity
[
]
This is the first episode not to feature Harry and Felicia.
This is the first episode to have Hsien-Ko and her twin sister Mei-Ling.
Cultural refrences
[
]
On the ship, Morrigan refers to Raptor as a "Moldy McJagger."
When Demitri first contacts Lord Raptor, there is a poster behind him that reads "World Tour 1964." This is the same year The Beatles took their first world tour.
During Lord Raptor's fight against Hsien-Ko, he references many famous or popular songs including:

"I've Got You Babe" by Sonny and Cher
"Don't Do Me Like That" by Tom Petty and the Heartbreakers
"I Heard it Through the Grape Vine" by Marvine Gaye
"Nowhere to Run" by Martha and Vandellas, Raptor continues with the full lyric "Nowhere to run to, baby."
"Get Over It" by the Eagles
"Another One Bites the Dust" by Queen
"Walk Away Renée" by The Left Banke
"You Really Got Me" by The Kinks
"Goodbye Yellow Brick Road" by Elton John
When confronted about losing to Hsien-Ko, Raptor states "She broke my Stratocaster." This is a reference to a Fender Stratocaster, an electric guitar first manufactured in 1954 and is still being made today.
Goofs
[
]
The scene where Hsien-Ko describes losing her family does not match the same scenes seen during her fight against Demitri.
[

]