Dee is a secret character who only appears in Vampire: Darkstalkers Collection.
Vampire: Darkstalkers Collection

[

]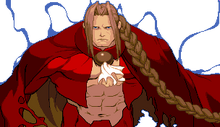 Main article: Vampire: Darkstalkers Collection
"I can see a light at the edge of the shadow. I hear a voice telling me to go to it."
"I fight in search of a reason to fight."
"If our memories are what give our life meaning, what meaningless life do I lead."
"I have lost something precious That is the only thing I can remember."
"I'm just..tired. I do not have the luxury of growing used to or bored of anything."
"I must continue to see it out... though I know I will never find it."
"I will quickly forget this encounter too no doubt."
"My destiny... though I have taken it on myself, it still eludes me."
"My blood must know.. it must know about my past, my present and my future."
"Tell me.. who am I?"
"The foolishness of constant regret... I am deprived of even that life lesson."
"This persistent suffering that I feel... it is the only proof that I exist in this realm."
"Truth over hope... Death over peace."
"Victory and defeat have no meaning to me... Can you even fathom this strange despair?"
"We shall never meet again... at least, from my perspective."
"Why do I fight? Why do I not run?"
[

]