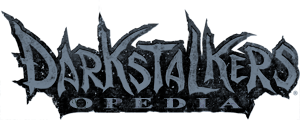 Character names
Japanese names and western names
To make things easier for anyone new to the Darkstalkers series, we ask that you keep character names as their western equivalents. Hsien-Ko is known as Hsien-Ko and not Lei-Lei. To note alternative character names, please place their alternate names in parentheses.
Example:
Lord Raptor (Zable Zarock)
Lord Raptor (Zable Zarock in Japan)
Japanese and romanization
Placing Japanese words with their kanji and or kana should follow the following pattern:
English (Japanese romanization)
Example:
Sasquatch (サスカッチ, Sasukacchi)
Romanization should be italicized. If the Japanese word is not a name it does not need to be capitalized when romanized.
Game names
General
All game titles should be italicized. Game titles can be shortened so that Vampire Savior: The Lord of Vampire is simply Vampire Savior.
Japanese names and western names
Similarly to character names, we should title games by their western title. Night Warriors: Darkstalkers' Revenge is not Vampire Hunter or Vampire Hunter: Darkstalkers' Revenge. Currently the only exception to the rule is Darkstalkers 3 or games that do not have a western title such as Vampire Hunter 2. To note alternate titles, you may place them inside of parenthese.
Example:
Darkstalkers: The Night Warriors
Darkstalkers: The Night Warriors (Vampire: The Night Warriors)
Article naming
Please name articles for their western equivalent, if possible. We are geared towards the English speaking audience.
Page titles should avoid symbols when possible.
Please name articles by their full name. We can create shorter redirects.
Example of page names:
Darkstalkers (series)
Darkstalkers (TV series)
Images
What shouldn't be uploaded
Do not upload fan art. Fanart can be found else where around the internet.
Do not upload images that do not relate to Darkstalkers or this wiki's articles. If you have an image that specifically demonstrates something new or interesting you may be able to post it.
Image naming
Image naming should describe the image and allow it to appear easily when searched.
Image naming should include up to and no more than 3 character names, and the name of what or where the image came from. An example would be "Morrigan Lilith Felicia Darkstalkers 3."
Not every image requires a character name. Logos for instance may simply say "logo" and have the game's name.
Game names can be abbreviated. Darkstalkers: The Night Warriors can be shortened to DNW, DSNW or simply Darkstalkers.
Group photos should simply say group if they have more than 3 characters.
Full character names are not required.
Western names are preferred. This wiki is for English speakers, not Japanese. To make things run smoother, we ask that you try and use the English names.
Abbriviations
Here is a table of appropriate abbrivations for game titles to be used in image titles. Do not use these within the wiki.
| | |
| --- | --- |
| Original title | Image abbrivation |
| Darkstalkers | DS |
| Darkstalkers: The Night Warriors | DSWR |
| Night Warriors: Darkstalkers' Revenge | NWDR |
| Darkstalkers 3 | DS3 |
| Vampire Savior: The Lord of Vampire | VS |
| Darkstalkers Resurrection | DSR |
See also
Further reading