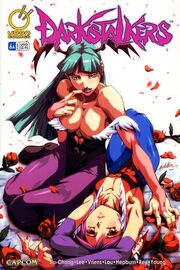 The last issue to be published by Devil's Due Publishing,
Darkstalkers Issue 6
by Udon Comics was released in April of 2005 and was also the last issue in the
Darkstalkers
comic series. The series' story would be continued five years later in
Darkstalkers: The Night Warriors
. The issue, as the previous five were, was written by Kevin Siu-Chong. The artwork was done by Alvin Lee, Joe Vriens, Kevin Lau and Skottie Young whom did the artwork for the
Baby Bonnie Hood
side story "The Silver Necklace." The final "Darkstalkers Mini" pitted
Sasquatch
against the Frankenstein monster,
Victor von Gerdenheim
.
Publisher synopsis
Edit
"Upon returning to her home in Makai, Morrigan was greeted with the grim news that her father was on his deathbed. Belial revealed to his daughter that his greatest concern was of the chaos that would no doubt befall makai after his death. In order to assuage her father's concerns, Morrigan strengthened her resolve to defeat Demitri. As Morrigan focused her attention on an external enemy, Donovan was struggling with the inhuman blood that flowed through his own veins. While pursuing Bishamon, Donovan almost loses himself to the overwhelming power of his darker side, but Anita reveals a mysterious ability and manages to sustain Donovan's awareness."
–Udon Entertainment, Darkstalkers Graphic File.
Issue Synopsis
Edit
To be added.
Characters
Edit
Darkstalkers Mini
Edit
| | |
| --- | --- |
| Story by: | Ken Siu-Chong |
| Pencils and inks by: | Joe Vriens, Alvin Lee, Kevin Lau |
| Backgrounds by: | Scott Hepburn |
| Colors by: | Espen Grundetjern, Susan Lou, Christine Choi, Gary Yeung |
| Assistant Editor: | Marina Siu-Chong |
| Lettering: | Cyber Graphix |
| Udon Chief: | Erik Ko |
| Mad-Evil-Foil cover: | Arnold Tsang |
| Capcom mini: | Corey Lewis (credited as Rey) |
| Back-up Story: | Skottie Young |
Community content is available under
CC-BY-SA
unless otherwise noted.