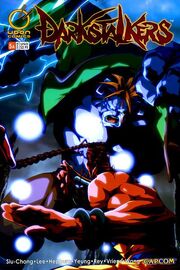 Published by Devil's Due Publishing, Udon Comic's
Darkstalkers Issue 5
was released in March of 2005. Written by Ken Siu-Chong, the fifth issue featured artwork done by Joe Vriens, Alvin Lee, Kevin Lau and Alan Wang. The issue incorporated the side story, "The Curse of Hannya and Kien," which focused on the history of the bloodthirsty sword and armor
Bishamon
had come into possession of. The non-canon "Darkstalkers Mini" presented an adolescent
Donovan Baine
who is attending high school with his fellow Darkstalker characters.
Story summary
Edit
"A few days after the incident with Victor and Emily, the villagers hired Donovan to find and destroy two "monsters." While Victor and Donovan were locked in battle, Emily and Anita were ambushed and abducted by some creatures of darkness. Following their trail back to the village, Victor and Donovan faced the creatures in battle. With some assistance from the villagers, the two allies of circumstance managed to defeat all of their enemies. Meanwhile, rumors of Demitri's presence in the human realm reach Morrigan's ears."
–By Udon Eterntainment from Darkstalkers Graphic File.
Issue Synopsis
Edit
To be added.
Characters
Edit
Darkstalkers Mini
Edit
Even when facing danger Anita remains emotionless.
Bishamon is the name of the man under the armor while the sword is named Kien and the armor is Hannya.
| | |
| --- | --- |
| Story by: | Ken Siu-Chong |
| Pencils and inks by: | Joe Vriens, Alvin Lee. Kevin Lau |
| Backgrounds by: | Scott Hepburn |
| Colors by: | Espen Grundetjern, Susan Lou, Gary Yeung |
| Assistant Editor: | Marina Siu-Chong |
| Lettering: | Cyber Graphix |
| Udon Chief: | Erik Ko |
| Mad-Evil-Foil cover: | Arnold Tsang |
| Capcom mini: | Corey Lewis (credited as Rey) |
| Back-up Story: | Alan Wang |