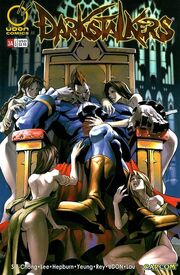 Darkstalkers issue 3
by Udon Comics was release in January of 2005 and published by Devil's Due Publishing. The comic featured writing by Ken Siu-Chong and artwork done by Kevin Lau and Alvin Lee.The issue also included the side story that was titled "Demetri's Chosen," which was
Demitri Maximoff's
first real appearance in the series. The "Darkstalkers Mini," a one page short, featured
Sasquatch
.
The comic was released with three alternate covers, one featuring Demitri, done by Alvin Lee. The second cover featured Felicia and Jon Talbain and was done by Kevin Lau. The last cover featured Felicia and was done by Joe Madureira.
Publisher synopsis
Edit
"Forsaken by her agent and fired for from a downtown Boston theater, Felicia felt a sense of hopelessness washing over her. With her permanent sense of optimism keeping her afloat, Felicia headed to a new audition and new opportunities. On her way, she encounters the Darkstalker Jon Talbain being tormented by some humans. Excited beyond the limits of his self-control by the power of the full moon, Jon Talbain could not be reasoned with. Left with no other option, Felicia was forced to defeat Jon Talbain in battle. Deeply affected by Felicia's cheerful disposition, Jon Talbain decides to join her on her journey out west."
–Udon Entertainment, Darkstalkers Graphic File.
Issue Synopsis
Edit
To be added.
Characters
Edit
Darkstalkers Mini
Edit
Hate crimes against Cat-Women are mentioned.
Felicia has a photograph of her and Sister Rose.
Demitri's name in the side story is mispelled as "Demetri."
| | |
| --- | --- |
| Story by: | Ken Siu-Chong |
| Pencils and inks by: | Kevin Lau, Alvin Lee |
| Backgrounds by: | Scott Hepburn |
| Colors by: | Gary Yeung, Susan Lou, Christine Choi, Ben Huen |
| Assistant Editor: | Marina Siu-Chong |
| Lettering: | Cyber Graphix |
| Udon Chief: | Erik Ko |
| Mad-Evil-Foil cover: | Joe Madureira with colors by Arnold Tsang |
| Capcom mini: | Corey Lewis (credited as Rey) |
Outside the bar, the address 1697 appears. This may allude to 1697 Broadway Street in New York where several theaters reside.
Community content is available under
CC-BY-SA
unless otherwise noted.