'Darkstalkers Resurrection' - Launch Trailer
Play Sound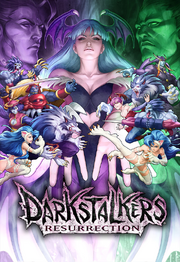 Darkstalkers: Resurrection titled in Japan as Vampire Resurrection (ヴァンパイア リザレクション Vanpaia Rizarekushon) is a digital re-release featuring Night Warriors: Darkstalkers' Revenge and Vampire Savior (known as Darkstalkers 3 outside Japan). The game was developed by Iron Galaxy Studios, who also developed Marvel vs. Capcom Origins and Street Fighter III: Third Strike Online Edition.
The game was released on March, 12, 2013 for the Playstation Network in North America and on Xbox Live Arcade on March, 13. The Japanese version was released on March, 14, 2013 with the digital download being available on PSN on April 17.
Features
Along with arcade and training, there will be a tutorial mode that will explain to players different combos and strategies while explaining why they're useful. Replay mode will allow players to save matches to their hard drive or upload them to a server for people to view and rate. A spectate mode that allows eight people to watch current or prerecorded matches while being able to chat. Online uses GGPO.
Players can earn vault points by completing "dynamic challenges." Vault points can be used to unlock various items such as movies, character art, concept art as well as skins and various other items. Graphic changes include upscaled sprites, various filter from a smooth widescreen view to scan lines and an arcade cabinet view. Addition artwork by Stanley Lau, also known as Artgerm. A new character select screen has also been introduced with new art but can be turned off by players to view the original select screens. On December 7th, Capcom updated and changed the official artwork for Felicia and Morrigan, slightly censoring their character artwork.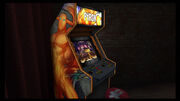 It has been noted that the home console additions, Pyron, Huitzil and Donovan Baine are not be included in Vampire Savior but Oboro Bishamon and Dark Talbain are playable. Vampire: Darkstalkers Collection's Dee is left out of the roster.
On March 21st, Capcom announced additional in game cabinet artwork and backgrounds as payed downloadable content.
Characters
Night Warriors: Darkstalkers' Revenge
Vampire Savior
Videos
Official art
Character artwork
Boxart and other
Screen shots
External links