A Manhua (Chinese comic) of Darkstalkers had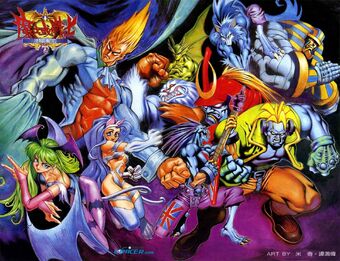 been released sometime in the late 90s titled, Darkstalkers: The Night Warriors, based on Capcom's fighting game series of the same name. It ran for twenty-five issues.
Plot
From what can be gathered, Demitri Maximoff had been living in Romania under the guise of a human, slowly building up his power for his return to the Makai. He is on the hunt for Pyron, who had nearly caused the extinction of vampires due to a past visit, leaving him badly wounded. Now Demitri goes about trying to find the means of increasing his power to fight Pyron and anything he throws at him. Morrigan Aensland watches over his progress to see if he can actually succeed.
Demitri's fate also ties in with Felicia, whom he met and rescued from a circus a long time before. After being freed and her fighting spirit awakened, Felicia hunts down Bishamon, who was responsible for killing her foster mother when she was young. She is later assisted by Jon Talbain, who also shares a connection to her due to meeting her in the past.
Gallery