Anakaris has appeared as a playable character in every Darkstalkers game. He also appears in Marvel vs. Capcom 2 and Capcom Fighting Evolution.
Darkstalkers: The Night WarriorsEdit
Main article: Darkstalkers: The Night Warriors
Darkstalkers: The Night WarriorsEdit
"You misbegotten spawn of a jackal! Crawl back to your hole!"
Vampire: The Night WarriorsEdit
"A curse upon you!"
"All illusions must be dismissed."
"Am I difficult to understand? My apologies."
"Be not a fool. There can only be one pharaoh."
"Defeated soul, kneel before your god. I am the great Pharaoh Anakaris."
"Defy not your lord and ruler."
"Evil...Destruction...Devastation...Death."
"Fool! Leave my sight."
"I am the pharaoh! I am god! I am supreme! I am invincible!"
"Infidel! Fall into the eternal darkness."
"It is the will of God. To the victor goes the glory, and the defeated there is only despair."
"Learn the limits of your abilities. You cannot defeat a god."
"Only my honor as pharaoh, I cannot allow you to win."
"Praise me loudly."
"Show some respect! You find yourself before a pharaoh!"
"Those who do not believe in the powers of eternity shall answer to me."
"What is a pharaoh, you ask? The power of eternity."
"Who are you? Show your true self."
Night Warriors: Darkstalkers' RevengeEdit
Main article: Night Warriors: Darkstalkers' Revenge
| Condition | Quote |
| --- | --- |
| Winning with low health | "You could challenge Ra, but I Anakaris am the greatest warrior of all time!" |
| Winning with medium health | "The power of Pharaoh Anakaris is as eternal as the desert sands!" |
| Winning with high health | "You are not worthy to clean my tomb!" |
| Winning against self | "No jackal spawn trickster will ever be able to defeat me!" |
Darkstalkers 3Edit
Main article: Darkstalkers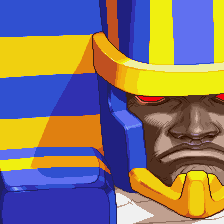 Because Anakaris' quotes can be somewhat too cryptic and at times, culturally incompatible, many of them have been reworded or outright changed. One of them is also a fourth-wall breaker, like Felicia's.
"Everybody needs somebody, you're not the only one."
"I thought you had protection. I thought wrong."
"I've enjoyed slumming long enough."
"Open your eyes...the truth lies before you."
"Never quest me again. Or else..."
"That was the worst strategy ever. Buy an official book!"
| Original quote | Translation from Japanese | In English / English equivalent |
| --- | --- | --- |
| "新生王国建立記念念念 国民大募集中中中" | "A glorious new kingdom is born. Now welcoming new citizens." | "A new kingdom is born, all are welcome here." |
| "王には王の王の王の 民には民の戒めありありあり" | "A pharaoh and his subjects each have their own lesson to learn." | |
| "定めによりてりてりて 王は民を守るものなりなりなり" | "A pharaoh shall protect his people. That is the way of things." | |
| "ひとりかりかりか それはさびしかろうろうろう" | "Are you alone? How terrible that must be for you." | "Being alone must be lonely. You need me. Praise me." |
| "神は我が内にありありあり" | "God is within me." | "I feel the power within me. Can you?" |
| "信じよじよじよ されば救われんれんれん" | "Have faith, and you shall be rewarded." | "If you believe you can be saved. Believe me." |
| "あわれなりなりなり 愚策の極み極み極み" | "How pathetic...surely yours is the epitome of failed ambition." | |
| "下々の技の数々数々数々 存分に堪能せりせりせり" | "I have thoroughly enjoyed numerous techniques you commoners have performed for me." | |
| "孤独を嘆くなくなくな 我が教示を受けよけよけよ" | "Mourn not your solitude. Simply do my biding." | "If you don't want to suffer accept my instructions." |
| "汝 真似ることなかれかれかれ" | "My child, you should not try to be something you are not." | "You cannot imitate me! Do not even try it." |
| " ゆめゆめ疑うことなかれかれかれ" | "Never doubt me." | |
| "敗者よさがれがれがれ 勝者に道を開けるのだのだのだ" | "Now all of the defeated shall part, that the victor might pass among them unhindered." | "Step back loser! Make way for the winner." |
| " 刮目せよせよせよ これぞ宇宙の理なりなりなり" | "Pay close attention to the logic of the universe." | |
| "悔い改めよめよめよ 王は寛容であるぞるぞるぞ" | "Repent for your sins. Your pharaoh is most forgiving." | "If you reform yourself, I will let you live." |
| "今我が国民となればればれば もれなく王の慈愛ありありあり" | "Swear your allegiance to me, and you shall benefit from your pharaoh's compassion." | "Be one of my people and I shall grant you my love." |
| "なにごとかとかとか 王の語りを邪魔するでないないない" | "What is this? Do you dare interfere with the will of the pharaoh?" | "How dare you! Never interfere with the chosen one!" |
Community content is available under
CC-BY-SA
unless otherwise noted.