"Alien's Keep Out" is the 9th episode in the American children's cartoon version of Darkstalkers. This is the first episode to feature Huitzil and due to the cancellation of the series his only appearance.
After escaping a fight against the dark hunter, Donovan Baine, Rikuo seeks the refuge of his healing pool in Atlantis. Rikuo's rest is cut short by Pyron who's appearance reactivates the robot, Huitzil who captures Pyron.
Appearances
Edit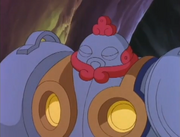 Pyron's power is linked to the ship, as stated by Computer.
Huitzil states he is the, "Gaurdian of the two continents."
Bishamon's curse is mentioned and also dealt with in the future episode "Samurai's Honor"
Rikuo's "Sky Fish" is introduced.
When Rikuo tells Bishamon to "strike now," Bishamon's eyes are white and his pupils black, rather than the usual purple and white.